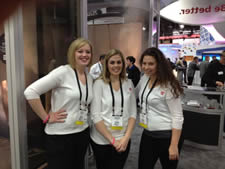 Tradeshows and Conventions
Every month, our friends at Momentum Management publish a listing of upcoming trade shows. This list encompasses a six month period of many of the top trade shows taking place in major U.S. cities. By simply clicking on each show link, you are taken to that show's website — or you can click on the city's name to receive additional information about that particular location. It's convenient, comprehensive, and smart.
Anaheim | Atlanta | Baltimore | Boston | Chicago | Dallas | Houston | Las Vegas | Long Beach | Los Angeles | Nashville | New Orleans | New York | Orlando | San Antonio | San Diego | San Francisco | San Jose | Tampa | Washington DC
ANAHEIM  (http://www.anaheimconventioncenter.com/EventList.aspx)
ATLANTA (http://www.gwcc.com/event_calendars/GWCC_Calendar.aspx)
BALTIMORE (http://www.bccenter.org/events.php)
BOSTON (http://www.mccahome.com/events.html)
CHICAGO (http://www.mccormickplace.com/events.php)
DALLAS (http://www.dallasconventioncenter.com/calendar/clndr11.html)
HOUSTON (http://www.houstonconventionctr.com/meeting_planners/calendar.html)
LAS VEGAS (http://www.lvcva.com/meetings/convention-calendar.jsp)
LONG BEACH (http://www.longbeachcc.com/calendar.htm)
LOS ANGELES (http://www.lacclink.com/eventcal/calendar.aspx)
NASHVILLE (http://www.nashvilleconventionctr.com/calendaroe.htm)
NEW ORLEANS (http://www.mccno.com/events/)
NEW YORK (http://www.javitscenter.com/events.aspx?mid=244)
ORLANDO (http://www.occc.net/iEBMS/coe/coe_p1_all.aspx?cc=coemain&oc=10)
SAN ANTONIO (http://www.sanantonio.gov/convfac/events.asp)
SAN DIEGO (http://www.sdccc.org/eventscalendar/page.cfm/)
SAN FRANCISCO (http://www.moscone.com/site/do/event/list)
SAN JOSE (http://www.sanjose.org/meetings/facilities/convention.php?x=eventcalender)
TAMPA (http://www.tampagov.net/appl_calendars/default.asp?Display_Type=month_data&date=11%2F3%2F2012&MONTH=11&YEAR=2012&calTypeID=4&submit1=+ok+)
WASHINGTON DC (http://www.dcconvention.com/events.aspx)
–Mel White
http://www.linkedin.com/in/melmwhite
mel@classicexhibits.com
*********************************
Based in Portland, Oregon, Classic Exhibits Inc. designs and manufacturers portable, modular, and custom-hybrid exhibit solutions and engineered aluminum extrusions (ClassicMODUL). Classic Exhibits products are represented by an extensive distributor network in North America and in select International markets. For more information, contact us at 866-652-2100.