If you've ever attended a trade show, you have an opinion about trade shows, trade show marketing, or exhibit design. I won't try to dispel every myth, but here are 10 Common Myths about Trade Shows.
1. Trade Show Marketing is Marketing. Yes . . . and no. If you are a skilled marketer, you will grasp the nuances of trade show marketing, but it will take time. Most marketing managers gravitate to their strengths by focusing on the structure, the graphics, or the show promotion and planning. Intellectually, they know these are interconnected, but they may not know how to maximize their results. Work with professionals, whether it's a graphic designer, an exhibit consultant, or a certified trade show manager. Trade show exhibit marketing is a craft learned the hard way through trial and error. It's easy to burn through a lot of money before you figure out what works and what doesn't. Don't stumble through a year or two of mistakes when exhibit experts can save you time, money, and embarrassment.
2. Trade Show Labor is Hostile, Incompetent, and Expensive. Again, yes and no. No one will dispute that trade show I&D can be expensive, particularly in certain well-known venues. However, most I&D contractors are very competent. They can solve almost any last minute trade show display crisis. You may disagree with the show hall rules regarding labor regulations, but the actual laborers in your booth didn't write them. If you disagree with the rules, don't take it out on the guy or gal assembling your display. Contact your I&D labor provider or show management.
This is a sad but true fact regarding show labor at most trade shows. If three people are assigned to your booth, one person will be a star, one person will be average, and one person will be a zombie. Hire nine people and you are guaranteed to have three stars and three zombies. Sometimes you get lucky, and the ratio works in your favor. Sometimes not.
You have the power to control your labor costs, beginning with exhibit design. Consider assembly and packaging during the design phase. Are the components labeled, can it be packed without relying on a 20 page manual, and are the packaging materials reusable?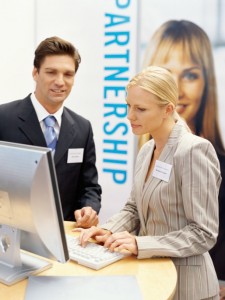 3. Anyone Can Staff a Booth. Too often, companies send the wrong folks to work the trade show booth. Even worse, they don't train them. Not everyone has the temperament, the knowledge, or the discipline for a trade show. Here's my rule: Find those employees with previous retail sales experience who love assisting customers with product or service solutions. It doesn't matter if they are in Sales, Marketing, Engineering, or Production. What matters is their attitude and their knowledge.
Want to know who not to send? "Joe." Every company has a "Joe." He drinks too much, he gambles too much, and he wanders around too much. About a half a dozen times a day, you'll wonder what happened to Joe. Five minutes ago he was sucking down his third espresso, leaning on the counter, and ogling anything with two X chromosomes. Suddenly he's gone . . . ONCE AGAIN!