At Classic Exhibits, we design and build exhibits for folks who love trade shows and special events. It's our passion. And it should be. We're in the business of showcasing your products, your services, and your company using stunning graphics and memorable 3D displays.
History
Classic Exhibits Inc. began as a designer and manufacturer in 1993. Over the years, Classic has evolved to meet the changing needs of our customers by expanding our design and production capabilities to include portable, modular, and custom displays. In addition, Classic Exhibits is the recognized leader in custom hybrid design, tablet stands, lightboxes, and trade show charging solutions. We are a flexible manufacturer willing to do "What others can't or won't even try." The current Classic Exhibits product line consists of a wide range solutions for the exhibit, retail, and event market. 
Explore the entire Classic product line in Exhibit Design Search, a comprehensible exhibit database with over 1400 designs. But, don't stop there. Every design can be modified to fit your specific marketing goals. Don't see exactly what you want... no problem. We offer design services for any size booth and any budget. We're happy to build to your specifications.
The Shared Success Formula
We believe that healthy relationships with employees, suppliers, and distributors (and their customers) depends on Shared Knowledge, Shared Responsibility, and Shared Innovation. We value honest communication, transparency, trust, and hard work. We are committed to the Shared Success of all stakeholders based on their contribution.   
Shared Knowledge
Open, honest communication promotes the sharing of ideas. It sparks creative solutions and guides us to find greater efficiencies. To be effective, it requires a culture of discipline, processes, and listening to diverse opinions. We are committed to building a company where knowledge is transparent and trust paramount.   
Shared Responsibility 
By sharing responsibility and respecting the contributions of others, we contribute to our mutual success. In every transaction, we are customers or have customers, both internally and externally. Those roles, tasks, and deliverables allow us to rely on one another's strengths and create opportunities for business and professional growth. 
Shared Innovation 
Innovation thrives when ideas are discussed, evaluated, and embraced among employees, suppliers, and distributors. By advancing and harvesting the smartest solutions, we provide our customers with the best designs, products, and services.

Our Exhibit and Retail Solutions
Custom Exhibits
Wood and Aluminum Construction
Fully-assembled Display Components
Modular Locking Walls
Hybrid/Modular Displays
Visionary Designs Hybrid Exhibits
Perfect 10 Portable Hybrid Displays
Euro LT Custom Modular Exhibits
Magellan Hybrid Displays
Sacagawea Portable Hybrid Displays
SEGUE Hybrid Displays
Portable Displays
Quadro S Pop Up Displays
Quadro Floating Graphic System
Tablet Stands
Table Top Displays
Counters and Kiosks
Monitor Stands and Charging Stations
Aero Overhead Hanging Signs
Intro Folding Fabric Displays
Rental Displays
Inlines, Islands, Double-deck Structures, and Accessories 
Retail Solutions
Custom Store Fixtures
Retail Environments
Backlit Graphic Structures
Product Displays
Engineered Aluminum Extrusions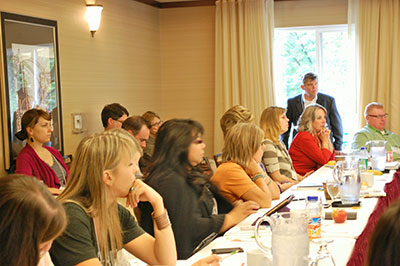 Our Distributor Network
Classic Exhibits is represented by over 175 trade show exhibit distributors in the United States and in select international markets. Classic Exhibits distributors offer design, marketing, graphics, and rental services. Every distributor is an exhibit professional who recognizes that Exhibit Marketing is a specialized field and understands that their client's ROI is measured at every show. We invite you to talk to a dedicated Classic Exhibits representative and experience the difference.
Please contact us if you have any questions. We look forward to designing and building the ideal display for your next trade show, event, or retail environment.